© GMTV

634Kb
As part of their pre-launch campaign came this commercial, attempting to make the channel fun and lively by the use of a cockerel.
| | |
| --- | --- |
| Early Years (Early-Mid 90's) | |

© GMTV

679Kb
A standard start up from GMTV, their "News Hour" reflecting how much their output and scheduling was like their predecessor TV-am.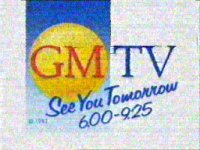 © GMTV

183Kb
Can you help with this image?? Contact us!!
A minor change of colours to GMTV's presentation, a full blue background, with the same logo

© GMTV

727Kb
A new look for GMTV launched for the new Millennium. Ratings are still steady battling strongly with the BBC. 1.4m viewers are a regular figure that GMTV receives.
---

© GMTV

233Kb
Widescreen arrives at GMTV towers. Ratings remain consistent with GMTV still battling the BBC at around 1.5m viewers.
Daily GMTV opts out of its programming for regional news, however sometimes it doesn't always goes to plan. When the regional news is occuring, this video is broadcast on the Network feed...

2.34Mb
Jan. 2009 -

3rd September 2010

© GMTV

369Kb
Fresh for 2009, refreshing idents aren't as frequent as it used to be!
6th September 2010 - 27th April 2014

© ITV Breakfast Broadcasting Ltd

1.15Mb
Starting a trend to move away from the GMTV name, and bringing back essentially titles from the past (because everyone loves a little bit of nostalgia!)
27th April 2014 - current

© ITV Breakfast Broadcasting Ltd

1.59Mb
Daybreak really didn't work, it didn't bring the viewers and it accurately replicated the beige 80s feel to its original programme during TV-am days. Therefore, there's only one solution..... find another programme title that worked during TV-am days..... and hence Good Morning Britain was reborn!
---
Other GMTV sites